A Brief Profile of Our 63nd President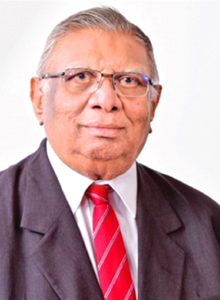 RTN. PHF RAZIK ZAROOK
President – 2023/24
Rotary Club of Colombo West
Mr. Razik Zarook President's Counsel, former Diplomat and Chairman of a number of Public Corporations, is a senior Attorney at Law. He had the unique distinction of leading both English and
Sinhala debating teams at Law College and was the winner of the SWRD Bandaranaike gold medal for Impromptu English Oratory.
He became a Member of the Rotary Club of Colombo West in 1987 and is a Paul Haris Fellow. He was recognized for his services to Rotary on numerous occasions.
He was appointed Chairman of SATHOSA by the then Trade and Shipping Minister late Lalith Athulathmudali PC.
Under his tenure, SATHOSA was turned around into a model profitable and viable organization having diversified and acquired many assets and developing it's real estate and establishing a number of public quoted companies such as Sathosa Motors Limited and Lanka Milk Foods Limited of which he was founder Chairman. He also held office as Chairman of the Agricultural Development Authority, The National Aquatic Research and Development Authority (NARA) and as
Chairman Bank of Ceylon.
He was a Member of the Finance Commission and currently, he is the Chairman of the Insurance Regulatory
Commission of Sri Lanka and a Member of the Board of the Bandaranaike National Memorial Foundation.
He served in the diplomatic service as Ambassador to the then Federal Republic of Yugoslavia and was accredited to several countries such as Romania, Bulgaria, Cyprus and Albania and thereafter he served as the Sri Lanka's first Ambassador to Hungary. Subsequently, he was appointed as High Commissioner to Singapore. He was also a member of the Sri Lanka delegation to the U.N. Human Right Commission in Geneva and to the UN in New York.
He is an Alumni of the Indian Institute of Management Ahamedabad, The Budapest University of Economic Sciences together with the Midwest Consortium Universities, U.S.A. and the Near East South Asia Center for Strategic Studies of the National Defense University, Washington DC.
He is an Honorary Member and Fellow of the Institute of Management of Sri Lanka and a Member of the Institute of Marketing. He was the Past President and Honorary member of the Sri Lanka Institute of Packaging and a co founder of the Our Nation and the Sea initiative.
He is an old boy of St. Servatius College, Matara and Zahira College, Colombo where apart from his studies, he distinguished himself as an all-round sportsman.