Profile of our President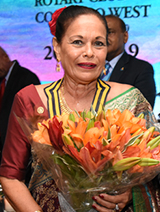 RTN.PHF.PHM Rohina Macan Markar.
Our 58th President of Rotary Club of Colombo West joined the Rotary Club of Colombo West on June 17th 2007. She was awarded The Rotarian of the Year for R.C.C.W in 2008, she has been an active member serving as Director of Community Service , Vocational Service and Bulletin Editor on most of the  club boards.  Her enthusiasm and commitment to the Rotary Club of Colombo West has been steadfast and her Motto is  Service above self .
Rohina grew up in Colombo and attended Ladies College Colombo.  Her introduction to Rotary was made possible by the late RTN. P.P. Brian Lourensz who as a dear friend advised her that she had so much of energy and should direct all this energy in an organisation like Rotary.
Rohina started her own business Minro Enterprises which was one of the first Recruitment Companies at the on set of the Labour migration to the Middle East. She ran this company for 18 years which was a very successful endeavour .Due to her personal life she  closed the company and travelled extensively with her husband to Papua New Guinea where she lived for 3 years and then to Jamaica where she lived for 2 years and last stay in Kenya where she lived for 3 years. Her experiences in these countries gave her a vast amount of knowledge of people, their customs and  and  that all human beings where ever they come from have the same aspirations to better the lives of themselves and their children.
The most heart breaking experience she encountered was the Aids pandemic which was at its very worst whilst she was in Kenya , Rohina joined the Organisation Women with Aids in Kenya    Rohina has one daughter Minza who is presently teaching at the International School in Nanjing China and two grand daughters Khalila who is in the U.S. studying to be a marine biologist and her second daughter Ahjna is still studying in Nanjing .
In her free time she plays golf  and loves to dance she has served as Lady Captain of the Nuwara Eliya Golf Club from 2016/17 ,2017/18.
Her projection for the Rotary Club of  Colombo West 2018/19 is to complete all projects that our on going, Save a little Heart , Dream Cricket, Teaching English in Mawathagama. To organise a have Toast Masters programme for 3 out station schools , The  Cataract operation for 50 persons , to continue with Uni Mora Rotaract Club in their R.I. award winning  project Grama Prabodhaya project in Moneragala . The new projects will be Think Equal and Empower these projects involve differently abled children focusing on children from the ages of three to seven years to be better prepared for the world they will face. The Ayati foundation and the mobile mammogram  programme this project will be undertaken with the Ministry of Health and Dr. Lanka Dissanayake. We will focus on the Dengue Eradication project .
Where the Club is concerned keep out members well informed of all Club activities , introduce new members and encourage the members to access My Rotary.org. as often as they can.